Licensed and Board Certified Acupuncturist
If You Suffer from Chronic Pain or Other Ailments, and Prescription Drugs or Conventional Medicine have Failed to Produce Desired Results, there is a Natural, Safe, Effective and Drug Free Alternative
I want to thank you for visiting my website, and in return I'd like to offer you a voucher for a Free Initial TCM Exam & Consultation ($100 value.)
If you, your friends, relatives or colleagues are ever in need of my care, please download the voucher and bring it on your first visit.
Your no-cost, no-obligation initial exam and consult includes:
Acupuncture is just one form of therapy used within the coherent system of healing known as Traditional Chinese Medicine.
No one has ever died from acupuncture applied by a trained and licensed practitioner. Not a bad track record when you consider that the medicine is guesstimated to be more than 2,500 years old.
One of the great advantages of acupuncture is that, other than an occasional bruise, there are no side effects.
This is the most common question asked about acupuncture because many people associate needles with pain. Acupuncture needles are about the thickness of a dog's whisker, so they are virtually painless when inserted.
This depends on the condition being treated. Although the acupoints are located throughout the entire body, usually the needles are placed on the extremities from your elbows down to your hands, and from your knees down to your feet. Other common areas include the abdomen, back, and ears.
Needles are individually wrapped and sterilized by the manufacturer. They are opened only when they are ready to be used, and afterwards, each needle is disposed of in a medical waste container.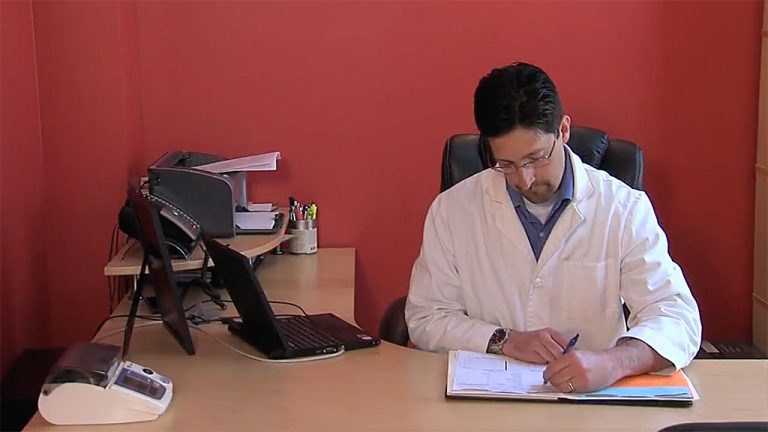 I am often asked why I practice this medicine. In reply I can only say it mostly has to do with that look on a patient's face when the pain they have lived with for twenty years slips away. The look is a smile. A smile that says there is peace. We see the same expression whether or not it's pain, asthma, anxiety, etc. When the nervous system quits sounding the alarm people shine. The other reason I am in this profession is because I absolutely love challenges. The more complex the case, the more interested I become.

You know it came as quite a shock to me upon opening my doors in 2000. I wasn't seeing simple cases of pain, stomach aches, etc. What I saw was a grim procession of people that had been to every other clinic in the state. Having given up almost all hope they threw a Hail Mary Pass and ended up in my office. So I cut my teeth on an extremely challenging case load and it has never been different.
To learn more about Acupuncture and Traditional Chinese Medicine, get my FREE Report titled: "The Truth About Acupuncture; The Ground Breaking Study That Proved Skeptics WRONG".
It's a detailed report on the history of Acupuncture that includes the latest revealing studies, and how Acupuncture and Alternative Medicine work. Just enter your name and email below and I'll send it to your right away.
"For the first time in my twenty years of asthma inhalers, I have been able to cut my medication in half as a result of acupuncture treatments and herbal formulas. I hope to eliminate inhalers completely, in time, by continuing my treatments at the Acupuncture Health Center."
Dale
Bellingham, WA
"Acupuncture gave me back my life! It not only treated the pain I was having, it improved all aspects of my health, body and mind. Acupuncture has put me on the path to total health! Don't take pills, get acupuncture!"
Lorraine
Everson, WA
"Scott and "magical" Marie have introducted me to a whole new world of health and wellness. It is wonderful to be free of pain and to have renewed energy!"
Sharon
Bellingham, WA
"For five years, two lung doctors said my problem breathing wasn't fixable. Then Scott helped my phrenic nerve to move my right diaphragm to fill my lung again. He also took away the pain in my arthritic finger and has treated my 80 year old aches and pains. I have recommended several friends and family to Scott and Marie."
Roni
Bellingham, WA
"The Acupuncture Health Center has been able to help me when traditional "Western" medicine has either given up or has suggested invasive procedures with a record of unreliable results. Perhaps equally important is that, if Scott and Marie cannot help a patient, they will be honest about it and suggest alternative treatment elsewhere.
The staff is friendly. Scott and Marie are easy to talk to and never make me feel embarrassed. The office ladies are helpful and attentive. I especially enjoy the atmosphere of relaxed good humor that usually pervades the space.
P.S. The heated tables are wonderful, especially on a cool day, and I am invited and encouraged to listen to my Ipod."
Sue
Bellingham, WA
Acupuncture Health Center
1303 Astor St # 101
Bellingham, WA 98225
(360) 715-1824
Email: Click Here
Payment Accepted:
Discover, Visa, MasterCard
Cash, and Check
Hours:
Monday to Thursday: 9AM – 5PM
Friday: 9AM – 4PM
Acupuncture Health Center
1303 Astor St # 101
Bellingham, WA 98225
(360) 715-1824
Email: Click Here
Payment Accepted:
Discover, Visa, MasterCard
Cash, and Check
Hours:
Monday to Thursday: 9AM – 5PM
Friday: 9AM – 4PM
Acupuncture Health Center